Change is the new deal now. Exponential change; accelerated pace of technology, "digital revolution" … this is the order of the day!
In other words, the pandemic has changed leadership development as we know it.
Like the discerning shopper, the discerning learner/leader of today is far more aware of his/her needs and is looking for leadership development solutions tailored to their specific needs and contexts.
Digital learning tools and the science of learning are converging and presenting unique options and alternatives for learning that provide a demonstrably superior experience to traditional forms of learning.
For example, we talk about 'learning journeys' based on the principle that true behaviour change takes time and is achieved through a series of integrated learning and development experiences. It involves a carefully woven mix of the tools and experiences, high tech and low tech, online and offline touchpoints — such as assessments, formal learning, reflection exercises, structured discussions, learning projects, one-on-one coaching, the support of managers and mentors, and more—to help leaders develop and perform their best.
Let's unpack some of the neo rules of leadership development.
Old Rule: Face-to-Face and Traditional New Rule: Digital and Virtual
The shift to virtual learning is likely to stay beyond the pandemic. Therefore, creating a great 'virtual experience' leveraging technology is critical. Research shows that virtual leadership development programs have the potential of creating similar levels of results as the in-class programs do.
Planning is key to ensuring the effective execution of virtual classroom/peer discussion sessions.
Build and manage employee learning journeys with single-user interfaces, develop apps or microsites to create and monitor workflows, dashboards to drive learner experience.
Old Rule: Linear New Rule: Ongoing and Continuous
One of the surest ways of accomplishing this is to move away from episodic learning events. They neither help in learning retention nor on the job application of new learning. Support employees by giving them time to learn and reflect on the job.
Provide opportunities for regular assessments, feedback, and coaching to support growth and improvement in performance.
3. Old Rule: Static New Rule: Adaptive, Agile and, Multidimensional
Create an adaptive learning ecosystem. Integrate reflection, learning, and application into the daily workflow so that leaders learn to respond quickly to challenges.
Structure the experience so that employees can apply learning techniques immediately to real business issues. Action learning projects (either individually or in groups) are a great way of doing this. Design for multiple experiences using different methodologies of learning – virtual classrooms, industry expert/practitioner interactions, peer consulting, journaling, and coaching to fuel the learning curve. The key is to understand the value each of these dimensions and how to optimise them for maximum impact, behaviour change, and results.
Old Rule: One-size-fits-all learning New Rule: Personalised Learning/Batch Size of 1
Today 'learner experience' is more than a buzzword. Creating the learner experience is not only about curriculum but the 'experience' that often translates into the single most differentiating factor. Research shows employees pursue or practice skills that are right for them, at their own pace, using media that are suited to their learning style and work environment.
Sharing information and interacting with leaders where they are, increases ownership and initiative for learning. Include concepts like digital nudges to reinforce learning of a new skill or
a habit. Personalisation is also driven by data and insights gathered through diagnostics and assessments.


Old Rule: Workshop Feedback New Rule: Effectiveness Measurement and Predictive Analytics
Increasingly organisations are using Predictive Analytics for leadership development to make informed decisions about investing in leader-building activities. It helps you connect the dots between people data and key business metrics.
Measure competencies, behaviours, and personality traits of an organization's leaders. These insights then enable performance predictions for the organization to design, prioritize, and implement targeted improvement programs to bridge gaps from a developmental perspective. This level of analysis and reporting gives leaders actionable insights to improve and strengthen performance.
For leaders operating in a complex and rapidly changing environment linear, static, one size fits all development approaches are not sufficient anymore. To help leaders drive change in the neo normal and steer through the proverbial white-water rapids of business, leadership development has to reinvent itself!
Lina Das
The CEEI
For any further queries, write to exed@theceei.com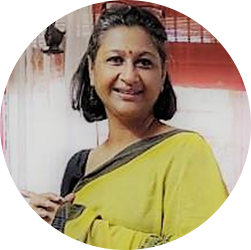 As a learning strategist, facilitator, and executive coach, Lina works across different industries helping employees and leaders (managers to C-suite) accelerate their development, deepen their learning experiences, and evolve their people strategy.
Lina helps analyse and evolve behaviours through initiatives that foster learning and drive culture change. She seeks to build pragmatic solutions designed to support clients in areas that yield the highest personal and organisational impact. Her aim is always to integrate the best of current research with practical, real-life applications.
In the last 25+ years of people and organisational development, Lina has been involved in extensive facilitation and coaching, instructional design, and leading individuals and teams to achieve business goals and objectives.
As part of her current role in CEEI, she works on developing strategies and frameworks for improving organizational performance with a focus on competencies, values, and leadership and management development.
Before joining CEEI, she held various leadership roles in Learning and Development and Talent Management in other consulting firms and corporates.